XC5-XS
XC5-XS is an on-premises virtualized SIP voice core routing and SBC solution that can be used to provide cloud phone services to your customers.
It routes voice and video calls, play network announcements and protects against Advanced Persistent Threat (APT) and denial-of-service (DDoS) attacks. It provides traditional telecoms features, business SIP trunking and Centrex features for ISPs.
It is a fully redundant system connected to replicated databases. Scalability is achieved by adding more virtualized nodes or databases, all running in a Hot-Hot clustered environment. The cluster can be spread across multiple data centres.
Feature overview
Features for your interconnected carriers and end users:
Call Routing - route retry
Quickly build a virtual routing list for outbound calls to try. Route calls between multiple carriers based on easily configured variables such as cost, time of day and quality
PBX Multiplexing
Connect many on-premises PBXs to one endpoint, providing a common place for account data, call routing and call detail collection
Call Queuing
Calls destined for your business customers can be queued until someone is available to answer. On-hold music can be played from a custom source, like marketing prompts, or from an internet radio.
Call Centers
Add more complex Auto Attendants and call queing. Redirect inbound calls based on critireria like agent skills and experience.
Admin Portal
Users and admins can change account setting in realtime, from anywhere.
Business Features
XC5-XS includes a virtualized multi-tenant business feature set to replace an on-premises PBX. All business customers (organisations) can be run on the same platform in a single instance. Features include basic user settings, organisational setting, voicemail, music on hold and auto attendant.
The web portal is included as a way to get started quickly using XC5-XS. There is also a JSON web API that allows all user and organisational settings to be made via third party integration.
By Organisation
These settings are often controlled by the carrier or the organisations administrator via the web portal. All changes are immediate.
By User
Each setting can be controlled by the individual user (or the organisations administrator) via the web portal. All changes are immediate.
Carrier SBC Features
Class 5 traditional features with 99.999% uptime capabilities:
Management
Web Portal and CRM Integration:
SSL HTTPS

portal

Organisations and Users

are separated by username. A single login can administer an entire organisation and users, or a single user can administer themselves

JSON API

is fully documented for integration to an existing CRM

Real-time SIP logs

are retrieved via the portal displaying an entire voice call

Account screen

for self-management or administrator level management of an entire organisation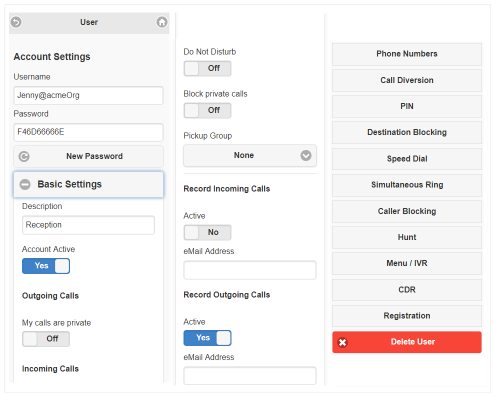 Toll-Free
Toll-free enables anyone to call for free from almost any phone within the same country. It can provide them with enhanced features such as Menus, Call Queuing and Call Diversion. All inbound calls to a toll-free number are traditionally charged to the customer that owns the toll-free number.
Basic Toll-free

includes a single termination point, connecting an 0800 or 0508 number to a specific terminating number

Enhanced Toll-free

enables additional call handling options to manage incoming calls with IVR and multiple answering points based on the caller. e.g. call from mobile may terminate to DDI (1), while calls from local area land line may terminate to DDI (2)

TNAS

number database can be imported periodically so calls can be directed to the owning carrier using call routing

Self Service IVR

allows Toll-free customer to change termination points and diversion by calling the toll-free admin line
Toll-free Features
Follow Me

can change your terminating number from anywhere for free through an automated prompt service

Call Advance on Busy/No answer

ensures your calls are always answered by forwarding calls to another pre-defined number if your primary terminating number is busy or not answered

Call Screening

(Originating Number Routing) so your customers are routed through to the most appropriate destination. You determine which number your customers will terminate on (or blocked) based on their incoming phone number

Time Dependent Routing

(Time of day diversion) so calls can be routed to different places any time during the day or night. This ensures that your calls are handled efficiently after hours or on public holidays. You define the time periods and select which days of the week each time routing should apply

Percentage Call Distribution

to distribute your calls to where you have the resources available to handle them. Calls can be shared between multiple locations as you can allocate a percentage of calls to different terminating numbers

Confidential Pin

Restricts access to your Toll Free number by requiring callers to enter a valid PIN before their call is connected.

Extension Routing

Recognise a valid extension entered by a caller and proceed to that extension.

Geographic Routing

(Geographic Call diversion) to answer calls locally. Calls are routed to specific terminating numbers based on what regions the calls are made from. Your customer's calls can be directed to the branch or office that is closest to them

Toll Free Notification

(Distinctive Tone) plays a quick beep, so that you know your incoming call is Toll Free